Quick vegan fresh pesto made in under five minutes
Quick vegan
Vegan meals made in under 20 minutes
Our 'Quick Vegan' series are short, sharp pieces that get to the point. You're a busy person who needs to eat, so check out our simple recipes that get from screen to stomach in 20m or less.
This recipe is perfect for any occasion and is so versatile. It can be added to salads, pizzas, sandwiches, pastas, burgers, tarts… pretty much anything! We prefer making our own pesto for two reasons. A lot of fresh pestos we have found come in plastic tubs, use an old glass jar to store this in your fridge for up to two weeks. Traditional pesto is made with Parmesan which is made with Rennit, a set of enzymes produced in the stomachs of mammals, usually cows. So, we prefer to reduce our plastic usage and lessen the demand for products with rennit. This recipe does both and is delicious!
For this recipe you will need a food processor or hand blender.
Ingredients:
60g fresh basil leaves (washed)
35g pine nuts, walnuts or cashews (can mix if you wish)
5 tbsp virgin olive oil
3 tbsp vegan parmesan (we recommend Violife Coconut Prosociano Parmesan Block Cheese)
1 garlic clove (crushed)
Salt (to taste)
Pepper (to taste)
Water (can add in tbsp to loosen if need to)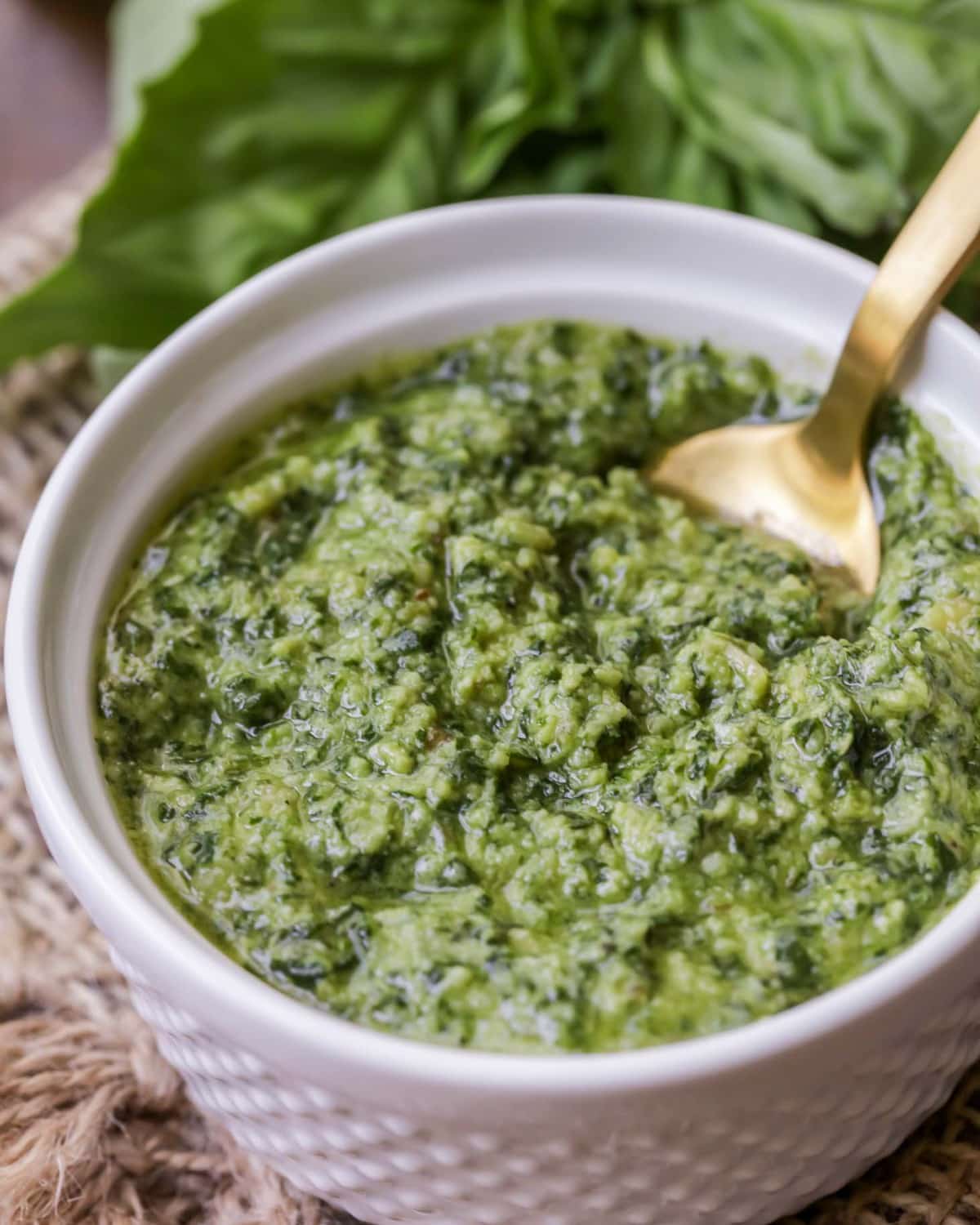 Method:
Pour all ingredients except salt, pepper and water into a food processor. If you are using a hand blender put all the ingredients into a large bowl to hand blend
Blitz the mixture in short bursts until blended into a paste. Blitz until your desired consistency. We prefer stopping quite early so there are still some chunks of nuts inside
Pour in tbsps of water to loosen the mixture if required
Add salt and pepper to taste
Pour over, spread on, spoon over the food of your choice
There are many different flavour combinations with pesto, its all a big experiment so have a go at trying a few of the following – there are no rules in cooking! Add sun-dried tomatoes, red peppers, olives, sunflower seeds, almonds, kale, spinach, rocket, parsley, mint or lemon juice. Let us know if you have any more suggestions too!
Got a recommendation to add to our Quick Vegan: series? Let us know.
Grace has quit the 9-5 lifestyle in London to study marine conservation in Thailand. She will subsequently work as a scuba diving instructor with emphasis on teaching students about marine conservation and anthropogenic impacts to our oceans. Her favourite eco product is Oliva Olive Oil Soap.