Why you should take part in Veganuary 2020
We hope you are still gorging on your Christmas Dinner left overs, nibbling your Chocolate Orange, Milk Tray or box of Roses. We also hope you have some time off to see family and friends and to relax after a busy decade! Just around the corner shops and restaurants are getting ready for Veganuary and so should you! Today we will let you know what Veganuary is and why we think you should give it a go! We would like to show you it isn't as hard as it first seems.
Veganuary is a 31 day challenge to take part in Veganism. There are two main types of Veganism people participate in; the first is most well-known which is removing all animal products from their diet. This is the classic concept of Veganism. The second is closer to the real concept of Veganism which is removing all animal products from your life period – this includes eating, clothing and beauty products (no animal testing). For Veganuary most will participate in the first style of Veganism, it mainly concentrates on cutting out meat, cheese and eggs from your diet for 31 days.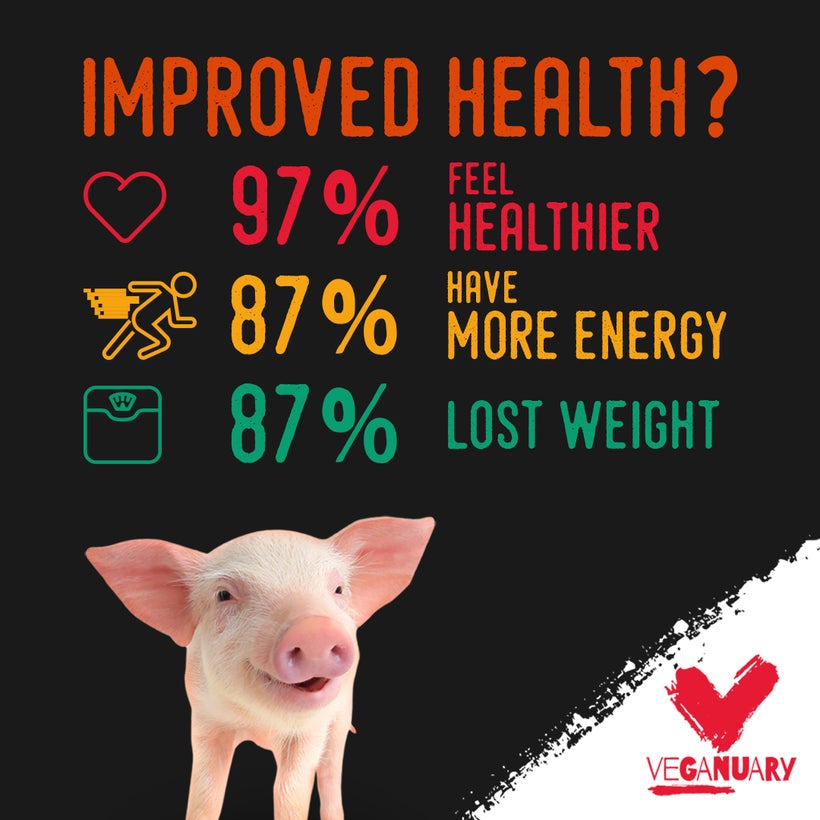 According to the official Veganuary website, since 2014 there have been 178 countries that have participated. Over 500,000 individuals have pledged in previous years to give it a go. There are many great reasons to take this challenge. These styles of monthly trial have been growing in popularity with the likes of Stoptober (to quit smoking for a month) and Plastic Free July. It gives you an opportunity to make a difference to your life and the lives of others on a trial basis. Not tying you into any contract or commitment, giving you a manageable amount of time to test a new lifestyle.
We have four main reasons we think everyone should give Veganuary a go.
Environment
Of course, we have to put this first! The consumption of meat is a huge strain on our planet, cutting out meat, dairy and eggs can hugely impact the damage to our precious environment. When land is used to rear and feed animals rather than grow crops one if not all of the following can happen; natural water and soil loss, trees are cut down for areas to graze or for animal and storage sheds and untreated animal waste can contaminate water ways.
The Union of Concerned Scientists list meat eating as one of the biggest environmental hazards facing our Earth. Producing enough meat for one hamburger currently uses enough fossil fuels to drive a small car 20 miles. More than 80% of corn and 95% of oats that are grown on our planet are fed to live stock for meat, dairy or egg production. The worlds cattle alone consume enough food to feed 8.7 billion people which is more than the population of Earth.
Animal cruelty
It is widely known that the meat and dairy industry are cruel and unforgiving in their practice. There are many documentaries which some people can stomach, showing the brutality of the meat trade. I won't go too much into this point as there are no shocks to the connection between Veganism and stopping the suffering of animals for slaughter or milking.
Slaughterhouses and milking stations are prone to over-crowding and low levels of hygiene. Fishing vessels consistently catch 'non-target' animals in nets such as dolphins, sharks and larger fish which are killed with the catch and put back into the ocean. When animals are reared in farms they do not experience or use any of their natural instincts – they do not hunt for food, burrow, build nests or create groups to aid survival as they would in the wild. They do not experience what it is to be what we would classically believe to be how the animal should live in the wild.
Health
With a caveat that there are lots of things in this world that can cause illness, some may be worse than others, however many scientists and researches understand there are many correlations between meat and concerning health conditions. The heavy hitters are red meats which usually top the headlines and increase the popularity of a pescatarian or flexitarian diet.
Eating meat can lead to an increases risk in heart disease, cancer, strokes, diabetes and harmful cholesterol levels. This is in no way an exhaustive list as there are many studies which point to other health risks. However, time and time again these five seem to be the top concerns for meat eaters. Many who switch to a meat free or meat reduced diet see rises in energy levels, ease of digestion and improved sleep cycles. It seemly, literally can't hurt to try.
It's becoming easier
In 2014 as Veganuary launched a registered Charity, the world of Veganism was on a much smaller scale. Through the years it has risen in popularity for many of the reasons above and more. According to their website, last year 500 businesses took part in Veganuary to help pledgers eat Vegan. There were more than 200 products in the market specifically introduced for Veganuary. Every year it gets easier to participate. Supermarket chains and restaurants increasingly add vegan options to their selection – if you love cooking from scratch or if you simply want an oven pizza. You can eat at home, with friends or out on the high street. It really hasn't been as easy as this before, so take advantage and give it a go!
If you sign the pledge at uk.veganuary.com you will receive daily emails throughout January which will include recipes, meal plans, tips and information about the impact Veganuary has. Green Matters interviewed the CEO of Veganuary who explained if 350,000 people worldwide take part in Veganuary it will save 41,200 tonnes of CO2 entering our atmosphere and reduce the use of water by 2.5 million litres of water. Just for 31 days of your life!
It is an amazing way to start the year, you can have 'done your bit' and got it out of the way if you don't build the environment or animals into your diet usually. You may find recipes or meals you would never have eaten, or didn't realise there were vegan alternatives which taste just as good (if not better). You could see health benefits and feel brighter. Even if you don't make the full 31 days, every little helps. You could try Veganuary in the week and not on weekends if its too much for you but you still want to participate on some level. The Vegan Society say that people should be vegan 'where practical and possible' so if there is a time where it is seemingly impossible or really inconvenient then ensure you don't beat yourself up about it. You will be working towards making the planet a better and more loving place.
We will be posting throughout January lots of articles and recipes on Veganism so make sure you stay tuned.
Grace has quit the 9-5 lifestyle in London to study marine conservation in Thailand. She will subsequently work as a scuba diving instructor with emphasis on teaching students about marine conservation and anthropogenic impacts to our oceans. Her favourite eco product is Oliva Olive Oil Soap.