Warming vegan cottage pie recipe
E .C.O. Recipe
Our tried and tested favourites
With a chill in the air we want cosy home comforts. Traditionally British staples like Cottage Pie and Shepard's Pie are easy to make when you're trying to move to a more conscious diet. They have the same warming, wholesome feeling as you cut into that crispy mashed topping.
The below recipe will make enough to feed four. This also freezes really well, so you can make a big batch and save for a snowy day.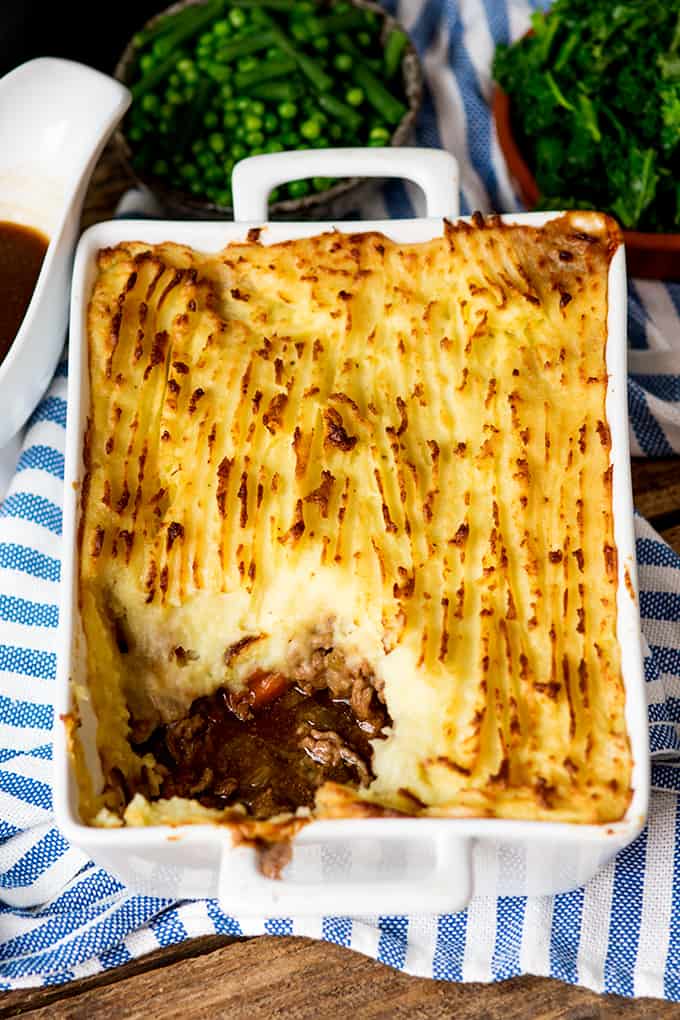 Ingredients:
Filling:
1 packet of meat-free mince (we like The Meatless Farm Co or Vivera)
2 red onions, finely chopped
1 leek, finely chopped
2 carrots, peeled and chopped
2 garlic cloves
400ml hot water
2 tbsp of marmite (this will be mixed with the water above to make stock, if you dislike marmite you can use vegan vegetable stock)
1 tbsp tomato puree
4 tbsp of dairy-free butter (can use olive oil if you wish to)

Mash:
3 baking potatoes (peeled and diced)
3 parnips (peeled and diced)
60ml soya or oat milk
50g dairy-free butter
1 tsp mustard powder
150g of vegan cheese (optional topping)

Method:
Melt the dairy-free butter or heat the olive oil into a large pan. Pour in the chopped leek and onion and leave to sweat for 5-10 minutes. Add the garlic and stir for a few minutes, ensuring not to burn.
2. Add the meat-free mince and stir for five minutes.
3. Mix the marmite with the water to create a warm, salty stock. Pour over the vegetables and mince, add the carrots and tomato puree. Put a lid on the saucepan with a small gap for steam to escape and leave to cook for 15 minutes on a low heat.
4. Put the parsnips and potatoes into a separate saucepan of boiling water and boil until soft, this should take around 15 minutes. Put the oven on to pre-heat while you wait.
5. Drain the potatoes and parsnips, in the hot saucepan put the butter and mustard powder in before throwing the boiled vegetables back in. Mash the vegetables adding the dairy-free milk slowly to loosen. Use more than 60ml if desired.
6. Pour the mince mixture into an oven-proof dish, cover with the creamy, pale mash. Use a fork to make peaks and troughs in the mash to create an extra crispy topping. Put into the oven for 10 minutes. Switch the grill on for 5-10 minutes until the tops of the mash peaks catch and brown.
7. If you are adding vegan cheese, crumble it over the top of the pie and switch from the oven to the grill to grill for an extra 5-10 minutes to melt on top.
Many of us have grown up with a menu heavily influenced by animal produce. Now there is such a variety of meat substitutes we are able to eat the same meals either as a vegetarian or a vegan. This Cottage Pie is a great example of a meal where the flavours are still strong, warming and comforting, without eating any animal produce. We make efforts to change the way we think about food, both where it comes from and how it's produced. If you can still feel like you're eating what you want to, or what you're used to, its much easier to enjoy a diet with reduced animal produce.
Got a recommendation to add to our recipe book? Let us know.
Grace has quit the 9-5 lifestyle in London to study marine conservation in Thailand. She will subsequently work as a scuba diving instructor with emphasis on teaching students about marine conservation and anthropogenic impacts to our oceans. Her favourite eco product is Oliva Olive Oil Soap.