Coral bleaching: Why do I care and what can I do?
Coral Reefs
One of the most complex natural habitats currently seriously threatened by human action
King Attenborough has brought the ocean into our homes for years, most recently the critically acclaimed Blue Planet and Blue Planet 2. They are among the best ocean documentaries of all time, a beautifully shot and technologically advanced series which is really the first to shine a light on ocean documentary and capture such an audience since the messiah that is Jacques Cousteau with his Aqua Lung.
Attenborough encapsulates the ocean in all its glory, from the wide-open ocean to the dark mysterious deep, from the haunting kelp forests to the coral reefs. Zooming in on the strange and sometimes unbelievable animals that live in the blue.
Whether shooting Wrasse cleaning sharks teeth or filming self-medicating dolphin rubbing against gorgonian coral, the coral reef as a whole gets a brief mention for context for the shot. In this piece, I want to take a closer look at what makes up a coral reef and the serious and terribly worrying issue that is coral bleaching. We will also soon bring you an article with indepth insight into how much humans depend on coral reefs and what would happen if they were to disappear (watch this space). So buckle up kids, it's time to learn!
What is a coral reef?
Coral Reefs are not only extremely beautiful but are extremely diverse habitats. They support the highest levels of marine biodiversity in the world and therefore a represent a significant amount of global biodiversity.
The geological record indicates that ancestors of modern coral reef ecosystems were formed at least 240 million years ago. This number is hard to even comprehend, but most established coral reefs are between 5,000 and 10,000 years old which is still an extremely long time… But I can understand the numbers 5,000 and 10,000 because I would be grateful for either to be in my bank account.
Reefs are made up of hard and soft corals. Hard corals are so-called 'reef builders' and they are essentially the skeleton of the reef (what you see left in the bleaching images). Soft corals are by name soft structures that are able to post up anywhere on the reef and sometimes move around the reef.
Coral reefs are built up by millions of coral polyps, small colonial animals – yes animals! – which resemble overturned jellyfish. Each coral has thousands of polyps that work together to build one structure. Coral polyps hide during the daytime and open up to feed on fine organic particles at night. They grow by using excess carbon dioxide in the water and turn it into a calcium upon which they grow. Over time, the food that is digested is excreted as calcium carbonate by the polyps and this is the construction of a 'coral', a calcium skeleton structure. As they grow, these reefs provide structural habitats for hundreds to thousands of different species.
Soft corals are not part of the reef building community. They are affected by coral bleaching but for the purpose of this piece the focus is on hard corals.
In an ideal world polyps house millions of microscopic algae called Zooxanthellae. They speed up the process by which the coral polyps build coral. They provide over 98% of the polyp's nutritional requirements. The zooxanthellae also use the coral's waste and carbon dioxide to grow and multiply. Without Zooxanthellae corals have no colour and grow significantly slower, if at all.
Why are reefs so important?
Finding Nemo was actually a great representation of the reef. And to some extent so was Shark Tale (although a weaker story line in my humble opinion) to demonstrate the make-up of a typical tropical reef. The reef provides a home, a food source, it provides protection, a cleaning salon, medicine to humans and probably has the capacity to provide a huge amount more that humans are yet to discover.
The term 'coral bleaching' is the process of Zooxanthellae either dying or leaving the coral structure due to a change in conditions or 'stress'.
The loss of the photosynthetic algae leads to a reduction of up to 98% of sustenance for coral. Therefore, a loss in 'living' coral as it should exist which in turn disrupts the whole ecosystem. Stress can come in a manner of ways to coral, it can be induced through changes in pH (rising sea temperatures can be a cause of this), changes in salinity (melting of ice caps can cause this), change in temperature and sometimes response to pathogens (this can be natural cycles of bacteria in the sea, or can be a direct result of human waste running into seas). The calcium carbonate coral skeleton still exists and can slowly keep 'living' but in essence the coral without it's symbiotic algae does not provide a healthy reef environment or the thousands of species and humans that depend on it for life. This is why the images you see of bleached coral reefs are barren wastelands rather than teaming with multicoloured tropical fish.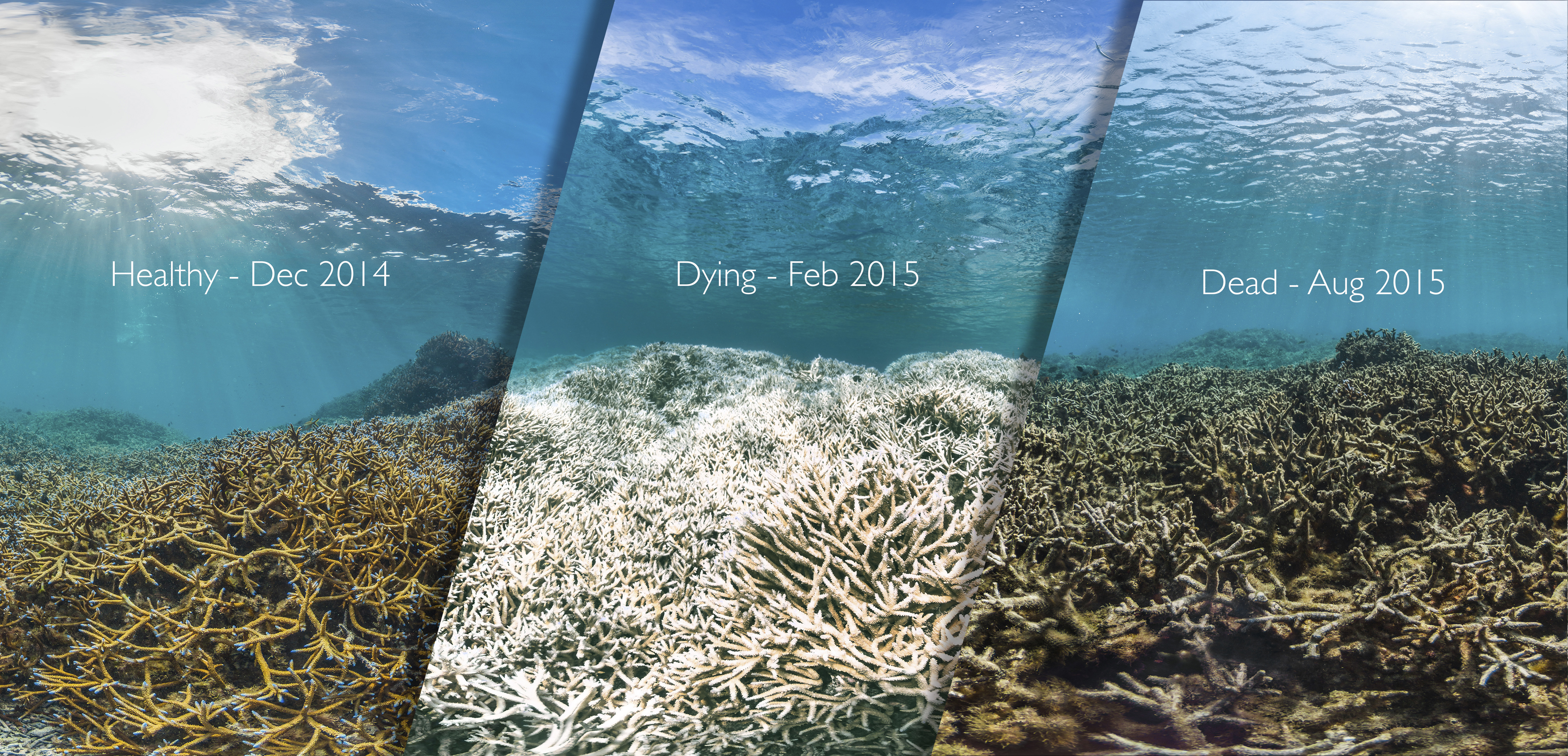 It is estimated that 20% of the worlds reefs have been effectively destroyed with no immediate prospects of recovery; additionally, it is predicted that a further 24% are under immediate threat of collapse and 26% are under long term threat. By 2030 it is projected that over 90% of the worlds reefs will be classified as threatened, rising to 100% by 2050
What can I do?
Most statistics now say that coral bleaching is irreversible due to the vast scale of the problem. The main issue is rising sea temperatures. If we were able to reduce the temperature of the seas the Zooxanthellae could potentially repopulate the corals and begin to bring life back to the desolate reef structures. This will take a seriously long time, but if we act now we are beginning that process.
I don't live on a beach…what can I possibly do to prevent coral bleaching?
Use less energy – the hotter the planet the quicker the ice caps will melt. Fossil fuels are the worst culprit, support renewable energy providers.
Reduce the amount of meat you consume – this will reduce the amount of CO2, for example the production of 1 kg beef causes about 13.3 kg of CO2.
Petition against deforestation – deforestation reduces the ability to remove CO2 from the atmosphere which is a huge factor in the heating of the earth.
Reduce your carbon footprint. Check your carbon footprint here and see how you can reduce it to reduce rising temperatures.
Support businesses who are reef-friendly, find out who is helping and how people are saving the reefs at the moment. See if you can donate money or volunteer. Even spreading the word can help.
Don't use chemically enhanced pesticides and fertilisers. Try to avoid fruit and vegetables that have been grown using these. They find their way into waterways and end up in the sea. These are harmful to coral and sea animals as well as the pH of water.
Volunteer at litter picking events, beach clean ups and similar events. If you travel to a beach destination ask at your hotel/hostel whether you can get involved in preserving the reef's eco system while you are there.
Educate yourself – coral reefs are incredibly complex. They are such interesting and diverse animals, the more you find out the more likely you will want to find out how to save them. Hopefully!
If you are on holiday and snorkel or dive a reef respect local customs, ensure you don't hit the reef with your fins or stand on the reef. Do not touch any coral or animals. Leave nothing behind and respect the ocean.
Support local or national conservation projects.
Talk to people about the state of the world's reefs and discuss how you can join together to help with friends.
Be an informed consumer. Don't buy souvenirs that are from the ocean, don't buy sun cream that can damage the reef (read our article on reef-safe sun cream). Try to use reusable plastic items rather than single-use to help avoid ocean waste.
Always bin or recycle your rubbish, no matter where you are in the world. All rivers end in the sea. Wind can take your rubbish from the side of the road, down drainpipes and into the sea.
Conserve water (read our article on how to conserve water). This reduces water runoff, water waste and energy. Waste and runoff water can find it's way into our oceans and chemicals used for cleaning can harm coral reefs.

Although many of us live far away from the sea, coral reefs are an extremely important part of our lives. We will be writing another article on the importance of coral reefs for humans soon. If this article has piqued your interest, then please do research how you can help save our coral reefs. Efforts to save reefs really can help change the outcome of coral bleaching and we ask you to please help us on this journey to save our tropical reefs.
Grace works for a School Improvement Partnership and is our resident ocean lover. Having worked as a scuba instructor in Indonesia she has picked up her fair share of ocean plastic. Her favourite eco product is Oliva Olive Oil Soap.