Easy kitchen substitutes and swaps during Plastic Free July
Plastic Free July:
A month long challenge where you attempt to rid your life of single-use plastic. Once you realise how happy it makes you it should continue forever more! Goodbye plastic! Hello sustainable happiness.
Can I please make one thing clear. Plastic Free July is not about getting rid of all of your reusable plastics to replace them with sustainable eco versions. If you have perfectly good, sturdy reusable plastic containers please do not chuck them in landfill to buy a funky new bamboo set and feel virtuous. Plastic Free July is about getting rid of the single-use plastics that don't deserve a home in our lives, that need to be weeded out and forgotten. So, when you next run out of some of the items below, or need to replace them then is the time to invest in switches like these.
We want to create a zero waste environment, if that means keeping plastic in the house then that is great, it is getting used! Don't feel bad if someone eye-balls you at the gym for having a BPA free bottle, keep that bottle and hug it with pride. It's what we are doing with all the single-use wrappers, boxes and bags that are a big problem.
So buckle up, take the challenge and see how many switches you can make in your kitchen alone this July.
17 quick kitchen switches
Ditch 5p plastic bags at the supermarket and invest in a cloth shopping tote. Better yet get funky and buy a mesh market Turtle Bag.
Stop using kitchen roll or tissues when you eat and grab a set of cloth napkins
Use tea towels or sponges to mob up spills rather than kitchen roll
Hide from single-use bags for your fruit and veg and grab some reusable produce bags, they also help store veg easily at home.
Chuck the cling film and foil and either buy or make your own reusable wraps, cloth bowl covers or silicone covers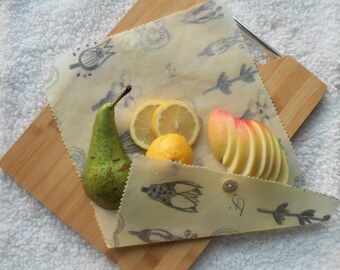 Sandwich bags are for the middle ages, grab a reusable snack bag for your packed lunch
Stop buying prepared food to-go. Keep old glass jars, clean them and use to store whole fruits you've cut at home to take to work (think pineapples, watermelons, mangos etc.)
If you're in need of new storage containers opt for glass containers. Ikea now have their own glass containers with bamboo lids, check them out here.
Stop buying bottled water, get yourself a filter if you don't like tap and treat yourself to a stainless steel water bottles to take on the go
Having a party or BBQ? Grab some paper or stainless steel straws rather than plastic
If you're scourer or sponge have given up the ghost check out plasticless scrubbers made from organic materials. Try Sonett sponges
Getting a take away? Check if you can pick up your food in your own container, take a metal lunch box
Don't rely on cafes having cutlery, most are getting better but to save resources invest in your own bamboo cutlery set, search here for some great products.
25% of a teabag is plastic convert to loose leaf for a proper brew, there are endless tea infuser or refillable tea bag options to choose from
More of a coffee person? Go old school and switch to a cafetiere, french press and even take it a step further with your own hand coffee grinder to reduce packaging
Whichever hot drink you like stop relying on cafes to give you cups to-go, save some money and make your drink at home in a reusable drinks mug, or take it to a cafe. Most give you a discount now for saving them a few bob on packaging
After cool drinks this summer? Don't buy ice-cube bags or plastic ice-cube trays, grab yourself a steel or aluminium one
Whether you manage to only do one switch or all seventeen you are making a difference and becoming the solution. We are on our way to having cleaner streets and oceans every day. Make these switches a habit and before long you'll have forgotten why you spent so much money on disposable items like plastic wrapped kitchen rolls and plastic sponges. These are all small efforts which can dramatically change outcomes. So have a go today!
Keep an eye out for our bathroom switches next week as we enter the second week of Plastic Free July! Join us in making efforts to change outcomes this month.
Grace works for a School Improvement Partnership and is our resident ocean lover. Having worked as a scuba instructor in Indonesia she has picked up her fair share of ocean plastic. Her favourite eco product is Oliva Olive Oil Soap.